ATTENTION: CONSULAR - Passport Services
Are you an Australian citizen in The Bahamas? Would you like to have your passport renewed or request notarial services?
Staff from the Australian High Commission will be in The Bahamas and will be available for appointments on Tuesday 5 – Thursday 7 February 2019. If you would like to make an appointment kindly contact us via email at ahc.portofspain@dfat.gov.au or contact our Honorary Consul, Ms Caroline Moncur at (242) 422-1727.
AUSTRALIANS IN THE CARIBBEAN: the Trinbago Knight Riders
Australia is proudly represented in the Trinbago Knight Riders team in this evening's semi-final in the Caribbean Premier League, with Coach Simon Katich and player Fawad Ahmed quietly confident they can help the Knight Riders into Sunday's final.
In an interview with the Australian High Commission for the 'Australians in the Caribbean' Facebook page, both reflected positively on the unique experience of playing cricket in the Caribbean.
Katich, who has previously toured the West Indies as a player, said "Caribbean cricket, from my earliest memories … has always been about flamboyant and attacking, aggressive play and that's exactly what the Caribbean Premier League is all about."
For Ahmed, leading wicket-taker in this year's Caribbean Premier League, Caribbean cricket has lived up to its reputation as 'the biggest party in sport'. "The way the guys play cricket here as well is kind of different – they are more having fun, that's why they call it the biggest party in sport and people love it here."
Building on their success in the shorter forms of the game, Katich is confident the West Indies Test team will revisit the glory days of West Indian cricket of his boyhood, when Sir Vivian Richards
was his idol – "in terms of the natural talent around, there's huge amounts".
The Australian connection to a potential West Indian Test revival is also strong – "Stuart Law, a Queensland and Australian player, has got the job [as West Indies coach] so it's a great challenge for him and he'll be loving that challenge but that's the nature of world cricket, you want to be dominating all formats."
The experience goes beyond cricket for Ahmed, who has a
Masters in Political Science and International Relations. For him, it is also about learning more about the world and representing your country, or in his case, countries.
Pakistani-born and raised, Ahmed became a refugee in Australia after working on women's rights issues in Pakistan, and became an Australian citizen in 2013.
He said "It's a life experience as well. It is good for my cricket here, I'm happy I've contributed nicely to my team and that's what I am here for – that's my job actually. But it's not just a job – I'm an Ambassador for two countries – for Australia and also for Pakistan."
It is clear Katich and Ahmed have been won over to the joys of life in the twin-island republic. Katich thought the best feature of travelling and playing in the Caribbean was the "laidback nature to it all" and has taken a "big liking to the hot pepper sauce – I'm addicted to it now – I love Trinnie food!"
And Ahmed has taken a shine to Port of Spain as "one of the best cities in the Caribbean where you can live, where there are opportunities, the lifestyle is good, the roads are nice, the markets are nicer, there is business…"
Relaxed and confident before their crunch game against the St. Kitts and Nevis Patriots this evening, Coach Simon Katich has trust that his players will deliver – "I find I'm pretty relaxed watching a game right now – I trust all the players, I feel that's one of my strengths as a coach – I feel I can trust them and let them go about their business because ultimately there's only so much you can do."
You can read the full transcript of our exclusive interview with Australians and Trinbago Knight Riders coach Simon Katich and player Fawad Ahmed here.
DIRECT AID PROGRAM (DAP) OUTREACH WORKSHOPS - FY 2018-19
Mark your calenders!
The Australian High Commission in Port of Spain is pleased to offer DAP Outreach Workshops in the coming weeks. Listed below is first week of information sessions:
20-21 August - St Vincent and the Grenadines
22-23 August - St Lucia
24 August - Dominica
The Workshops will provide information about the DAP and eligibility criteria to implement small-scale, sustainable development community projects.
To register for this workshop, send details to: DAP.portofspain@dfat.gov.au and application guidelines are available on Smartygrants - dap.smartygrants.com.au/PortofSpain201819 OR the Australian High Commission website - trinidadandtobago.highcommission.gov.au
Further information on the locations
for the workshops are detailed in the flyers below
. Please stay tune to our page (Austraila in the Caribbean) and website for more updates.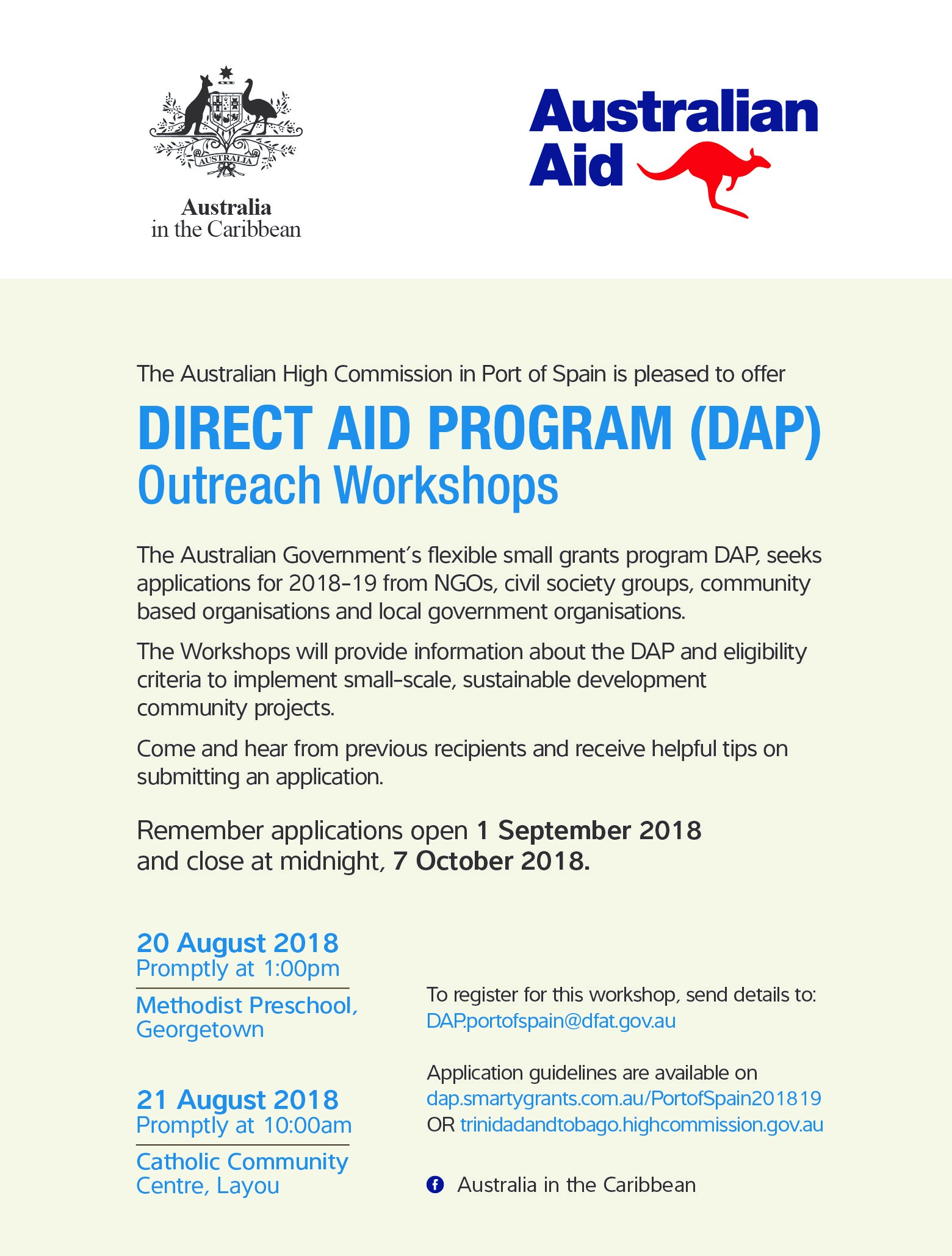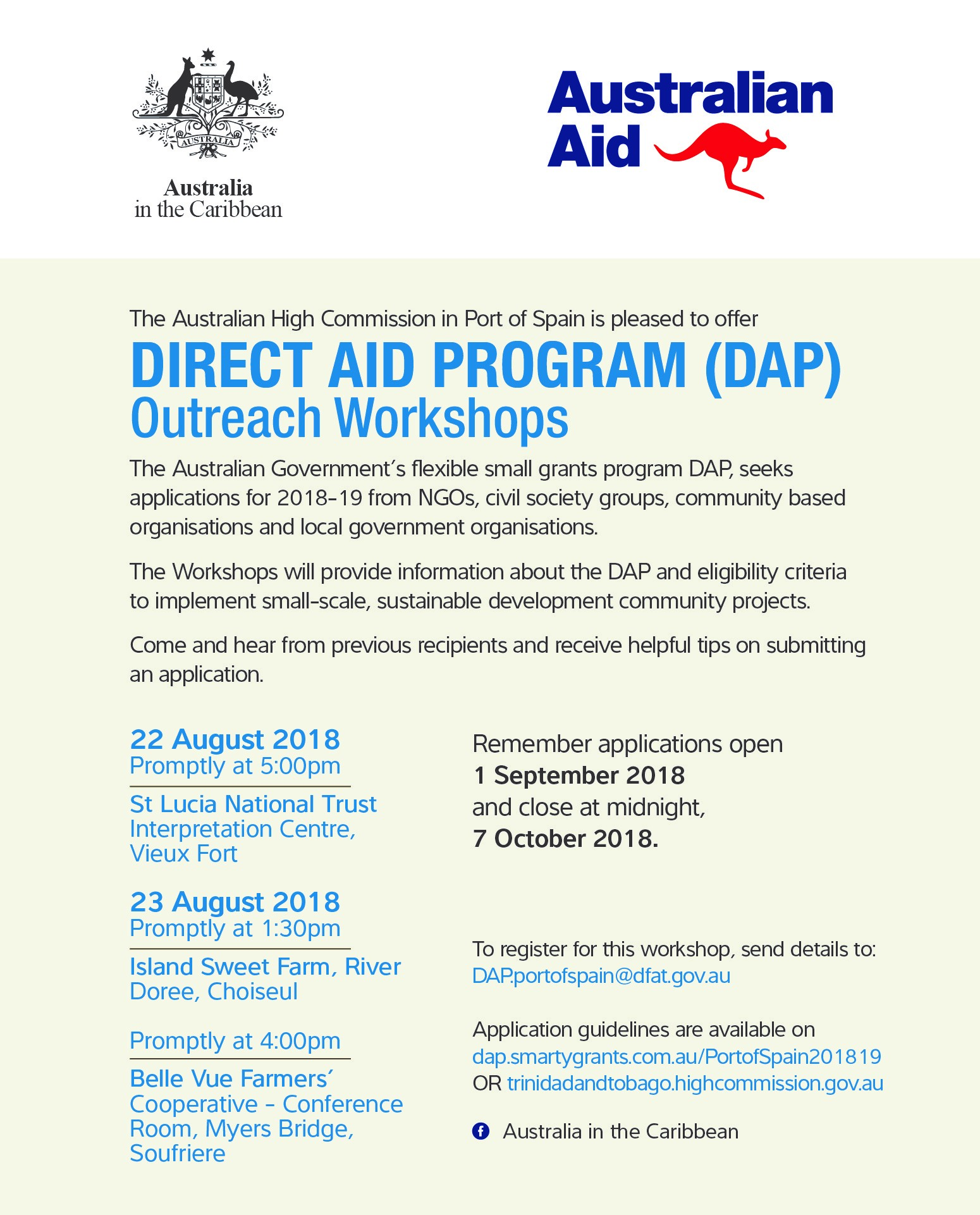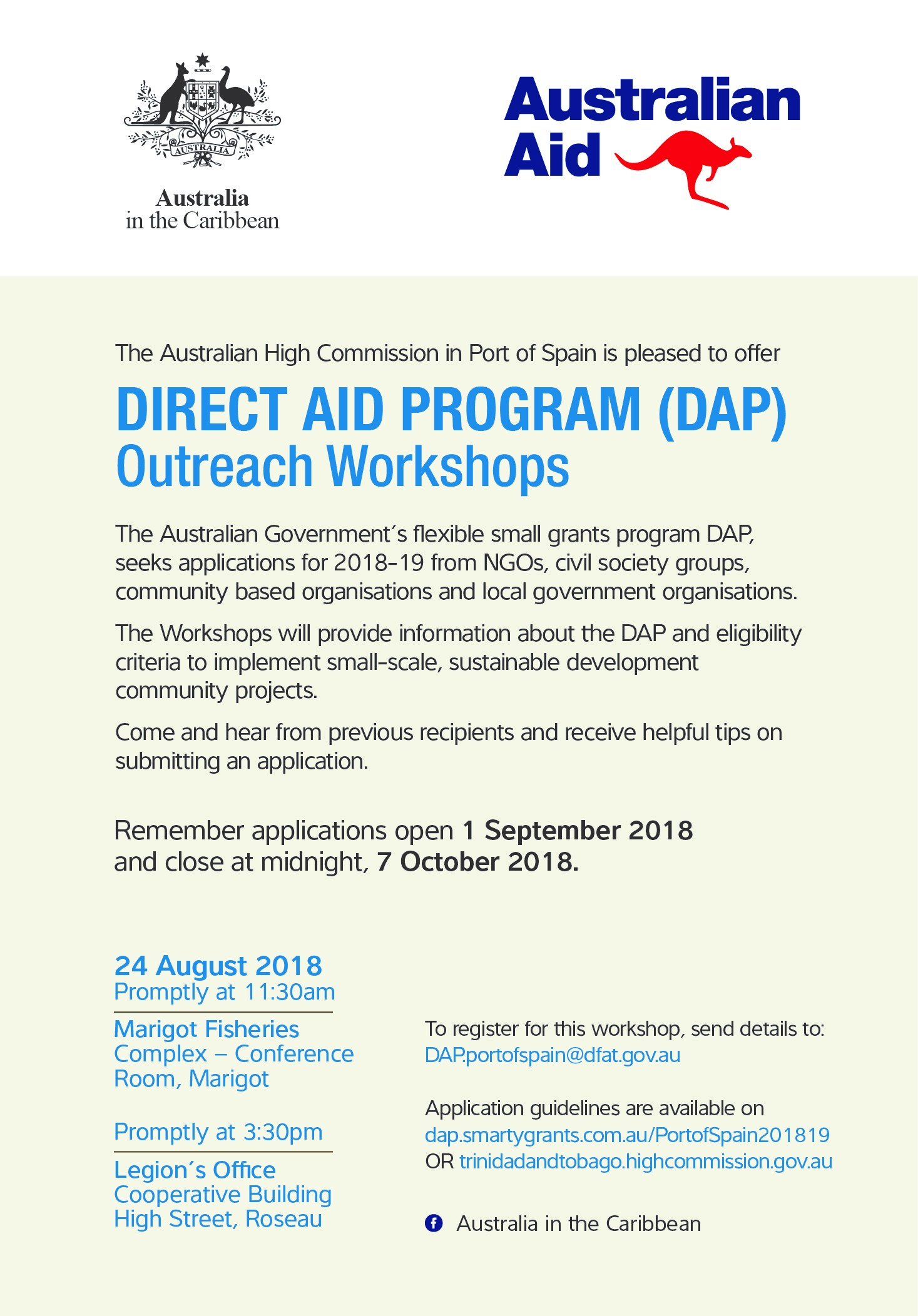 Direct Aid Program (DAP) - 2017-18 Recipients
The Australian High Commission in Port of Spain is pleased to announce the recipients of the Direct Aid Program (DAP) for Financial Year 2017-18. A total of 39 projects, were funded in ten (10) ODA-eligible countries in the Caribbean.
Water and sanitation, health, agriculture, coral reefs, climate change, disaster relief and capacity building were among the thematic areas of focus. We congratulate all recipients. See the full list here.
ATTENTION: Transition of the Americas Service Centre to the Global Service Centre
The Australian Government Department of Home Affairs Americas Service Centre phone number numbers are no longer in operation. Home Affairs has a new Global Service Centre (GSC) providing longer opening hours and shorter wait times. For more information, visit Home Affairs or The Australian High Commission websites.
ATTENTION: Update on Australian Passport Photos
Screening of the film - 'The Last Goldfish'
"Can you ever leave your past behind?"
"Who gets to belong?"
These are just two of the questions posed in the Australian award-winning documentary film, The Last Goldfish, which will be screened in Port of Spain and San Fernando next month.
Film-maker Su Goldfish was born in Trinidad and Tobago, after her Jewish father fled the turmoil of pre-WWII Germany and found refuge in the only place that would take he and his wife without a visa: the faraway, tiny Caribbean island of Trinidad.
'The Last Goldfish' documents Su's search for her lost family and identity, and reveals the impact of war and displacement across generations.
The Australian High Commission is delighted to partner with the National Trust of Trinidad and Tobago to be bringing Su Goldfish back to her birthplace to present the premiere screenings of 'The Last Goldfish' in Trinidad and Tobago - what a homecoming!
'The Last Goldfish' will be screened in Port of Spain on Wednesday 6 June at the Central Bank Auditorum (Eric Williams Plaza, Independence Square), commencing at 6.30pm.
We will also be hosting a special matinee screening of the film in San Fernando on Monday 4 June, with further details to follow.
Tickets are available for the Port of Spain screening by contacting the National Trust on 225 4750 or 706 6316; or visit www.nationaltrust.tt
🎥

ANZAC DAY 2018
The Australian High Commission invites nationals of Australia
, New Zealand
, Turkey
and members of the public
to an ANZAC DAY 2018 - Commemoration and Wreath Laying Ceremony
- "100 Years of ANZAC: The Spirit Lives 2014 - 2018"
Frequent Traveller Passports (FTPs)
Frequent Traveller Passport (FTP) applications are no longer accepted in Australia or overseas (as of 1 December 2017). The overall demand for FTPs has decreased as more countries are issuing electronic visas.
Please see the attached flyer and discuss options on replacement passports with your nearest diplomatic mission.
Renewal of Australian Passports
The Australian High Commission is pleased to announce that Australian citizens wishing to apply for or renew their Australian passports can now do so at two of our newly accredited Honorary Consuls in Barbados and Jamaica in addition to our High Commission in Trinidad. Recent legislation has made it mandatory that all applicants present for an interview at their nearest/most convenient consulate or embassy. If you wish to apply for or renew your passport at one of our Honorary Consuls, kindly contact our office in Port of Spain for additional information.
WARNING: Jobs/Phishing Scam Alert
The Australian High Commission advises all persons interested in visiting, working or living in Australia to please be aware of a number of Job Scams that may be related to Phishing Scams.
Social media sites and the wider Internet present many opportunities to earn extra money; many of which are not legitimate. If it sounds too good to be true, it probably is!
Always ensure that any potential employers and requests are legitimate and be wary of the following:
Any job where you are asked to accept and transfer money from one bank account to another.
Being asked for your bank account number or for the bank account number of another person so that someone's salary or money owing to them can be credited to the account.
Instructions to forward funds to persons abroad.
Visa application through third parties/agents and invitations to live in Australia.
Direct Aid Program (DAP) - 2016-17 Recipients
The Australian High Commission in Port of Spain is pleased to announce the recipients of the Direct Aid Program (DAP) for Financial Year 2016-17. A total of 36 projects (including one multi-country project), were funded in nine (9) ODA-eligible countries in the Caribbean.
Water and sanitation, health, agriculture, coral reefs, climate change and capacity building were among the thematic areas of focus. We congratulate all recipients. See the full list here.
Legalising documents / Notarial Services
The Australian High Commission in Port of Spain is able to provide a limited range of notarial services. These services are for Australian citizens, non-Australian citizens who hold a current Permanent Resident visa, and for other nationalities so long as the documents are for use in Australia. Consular fees are payable for these services and for some services, there may be free alternatives available such as witnessing of documents by medical practitioners or police officers.
If you have any queries, please contact us on 1 868 822 5450 during business hours.
From 2018 onwards, notarial service fees will increase annually in line with the Consumer Price Index published by the Australian Bureau of Statistics.
Descendance returns to Trinidad for Heritage Week 2016
The Australian High Commission was proud to sponsor the return visit by the Aboriginal and Torres Strait Islander Group "Descendance". The group joined other First Peoples from the region to celebrate Trinidad and Tobago's Heritage Week from 9-15 October 2016. Two members of the group, Mr Dion Drummond and Mr Emmanuel Daniel, participated in the week-long event, arranged by the Santa Rosa First Peoples Community of Trinidad and Tobago. The duo took part in street parades and cultural exhibitions in Port of Spain, Arima and Chaguanas, contributed to discussions on indigenous rights and performed for prominent Trinidadians, including President Anthony Carmona of Trinidad and Tobago, school children and other visiting First Peoples. See our Events page for more highlights from their exciting visit.
Welcoming the New High Commissioner to Trinidad and Tobago
The Australian High Commission wishes to welcome John Pilbeam as its newly-appointed High Commissioner to Port of Spain and 13 other regional countries of accreditation. At the presentation of credentials ceremony held on Tuesday 16 February at President's House, St Ann's, John shared a few life lessons with students from Success Laventille Secondary School, Presentation College and other guests in attendance.
Read more of about the ceremony and Q&A in the link here.
Read more about H.E. Pilbeam here.