ANZAC DAY 2018
The Australian High Commission invites nationals of Australia
, New Zealand
, Turkey
and members of the public
to an ANZAC DAY 2018 - Commemoration and Wreath Laying Ceremony
- "100 Years of ANZAC: The Spirit Lives 2014 - 2018"
Descendance Returns to Trinidad for Heritage Week 2016 (Oct 9-15)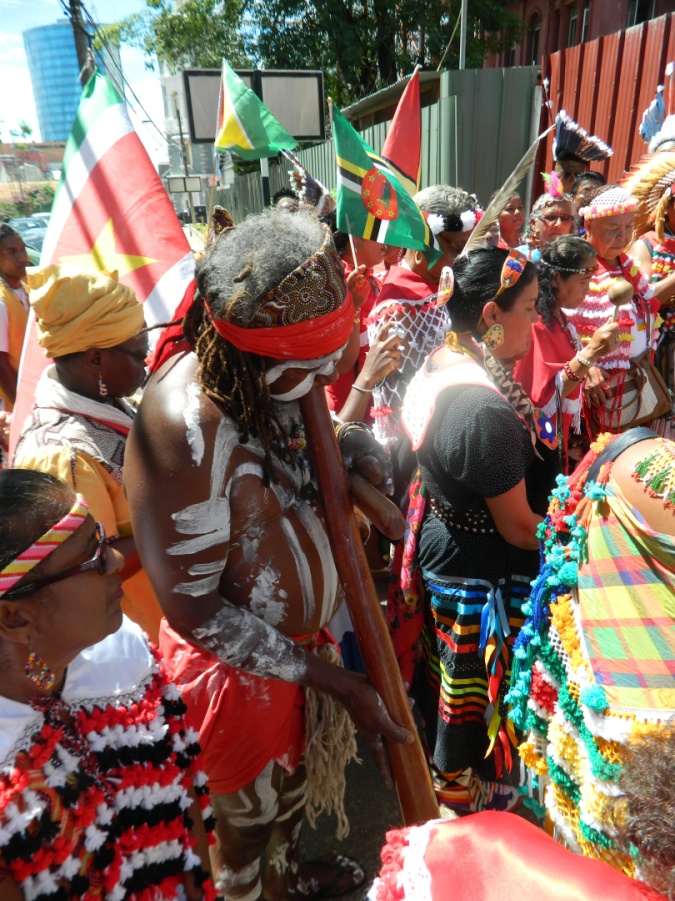 Emmanuel Daniel of Descendance plays the didgeridoo at a smoke ceremony held at the Red House in Port of Spain, Trinidad. The Red House is Trinidad's first Parliament building and has been closed for renovation. Archaelogists recently found Amerindian remains buried beneath the building. The smoke ceremony paid tribute to the memory of the First Peoples of Trinidad and Tobago.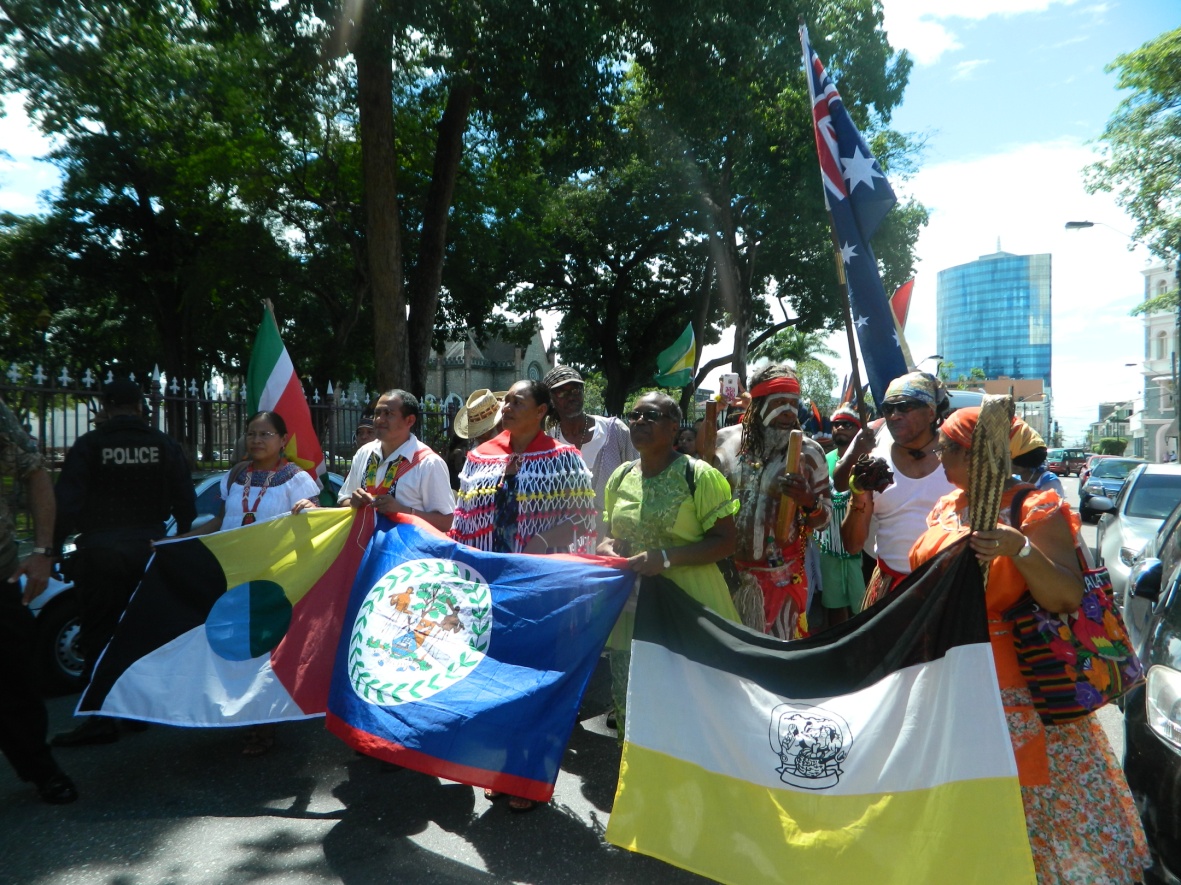 Emmanuel Daniel and Dion Drummond of Descendance join Indigenous groups from all over the world at the Heritage Week street parade in Port of Spain, Trinidad.

(R-L) Deputy High Commissioner Tracey Haines (far right second row); Minister of Energy and Energy Industries, Nicole Olivierre; Minister of Community Development, Culture and the Arts, Nyan Gadsby-Dolly (centre); Santa Rosa Chief Ricardo Hernandez; Junior Minister of Education, Lovell Francis; MP for Laventille East/Morvant, Adrian Leonce; and Minister of Public Administration and Communications, Maxie Cuffie (far left) gather with members of various Indigenous groups including Descendance at the Brian Lara Promenade, Port of Spain Trinidad.

Santa Rosa First Peoples Community lead an early morning river ritual in Arima to pay tribute to the First Peoples and the environment.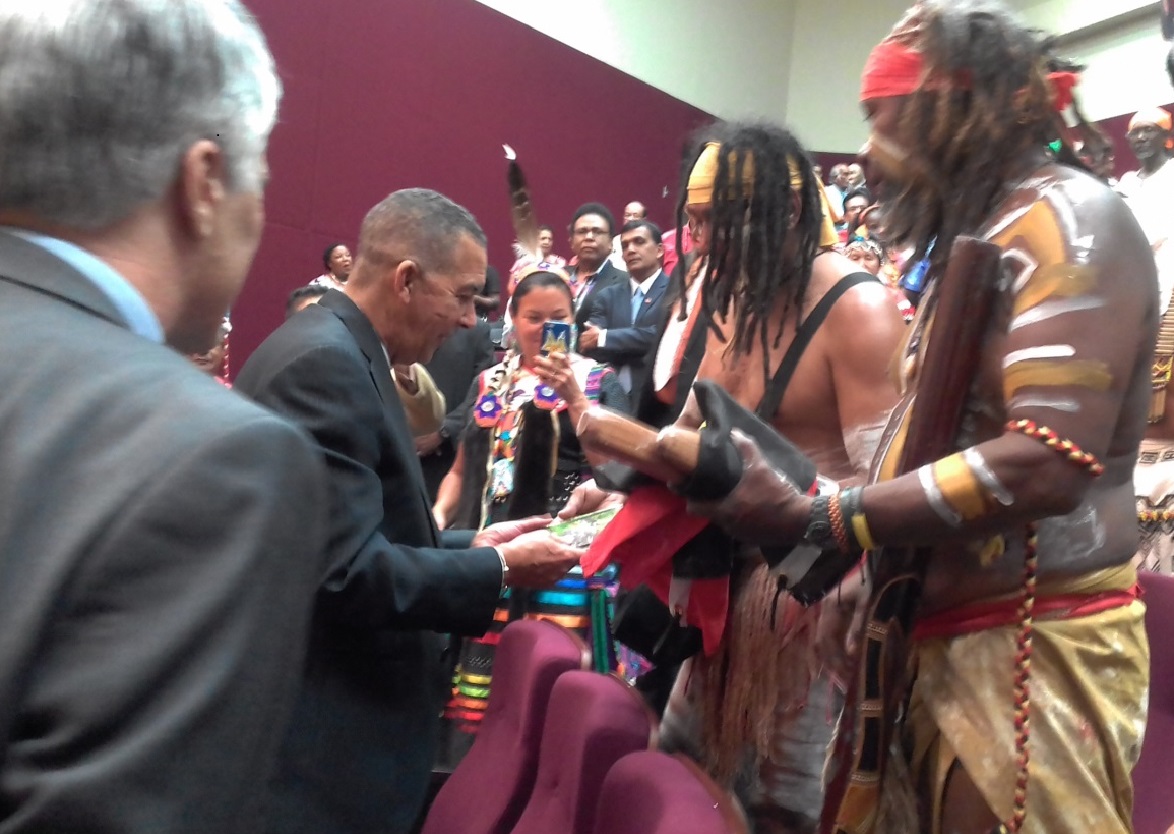 Trinidad and Tobago's President Carmona is presented with a book by Descendance at the special lecture "Champions of the People" at the Chaguanas Borough Corporation Auditorium.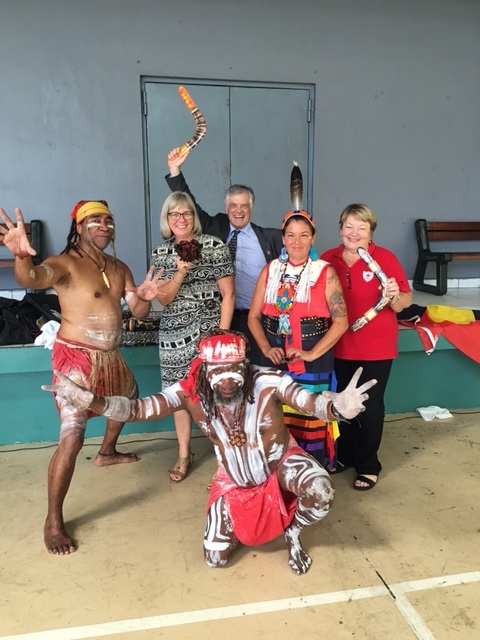 (L-R) Dion Drummond (Descendance), Canadian High Commissioner Carla Hogan Rufelds, Australian High Commissioner Pilbeam, Gail Chamberlain (Canada), Maple Leaf School Principal, Debora Jones and Emmanuel Daniel (Descendance) at the Maple Leaf International School.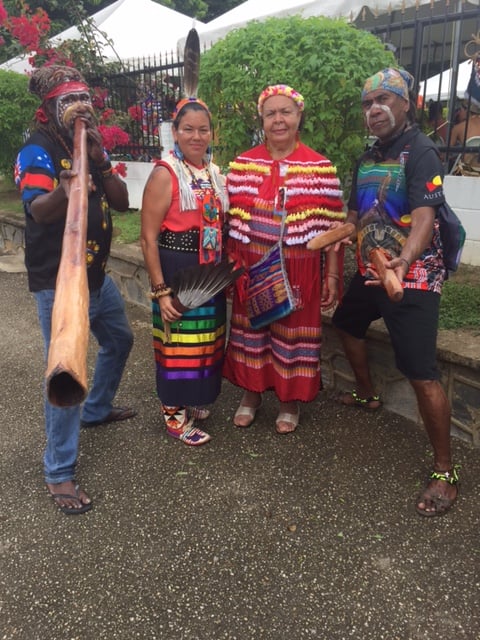 (L-R) Emmanuel Daniel, Gail Chamberlain (Canada); Queen of the Santa Rosa First Peoples Community, Jennifer Cassar; and Dion Drummond in Arima, Trinidad.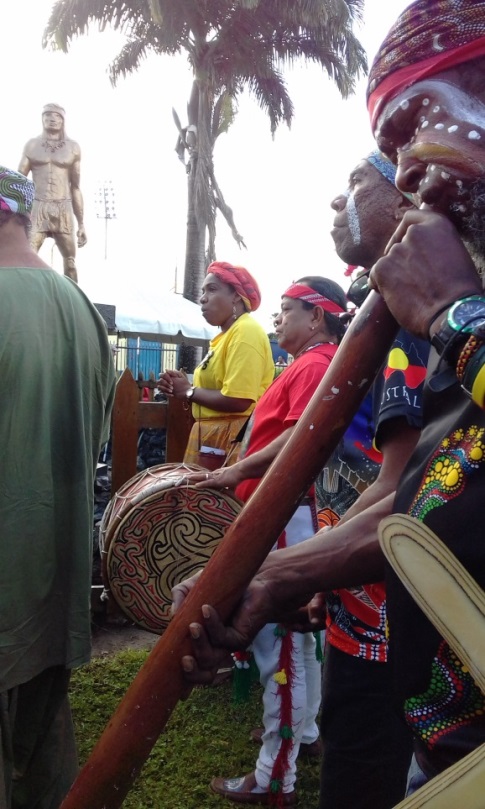 Descendance performs at an early morning ritual in tribute to Hyarima, warrior chief and leader of the Indigenous Peoples of Trinidad (Hyarima monument seen in the background).
Descendance Performs in Trinidad

ANZAC Day 2016